When it comes to achieving straighter teeth and a more properly aligned smile there are two popular options to choose from that use custom-designed, clear plastic aligners to shift teeth into place—SmileDirectClub™ and Invisalign®. Each of these orthodontic systems have specific advantages and drawbacks based on the condition of your teeth and the smile goals you hope to achieve. The biggest difference between these two systems, however, is that SmileDirectClub does not require you to see a dentist to undergo treatment (which has incidentally led to a serious complaint from the ADA – see below), where as Invisalign is always performed under the watchful eyes of highly trained Invisalign practitioners, such as our cosmetic dentists, John Coleman, DDS and Dr. John Coleman III, DDS, FAGD.
Cost is a significant factor that patients evaluate closely when deciding between SmileDirectClub and Invisalign. SmileDirectClub promotes low-end pricing at $80 a month for 24 months (prices may have gone up since this blog was published), while the initial cost for Invisalign is $158 a month for 25 months (we sometimes offer special discounts on Invisalign treatment and encourage you to inquire). Generally speaking, Invisalign costs more because you get more—the system is more advanced in many regards and is typically seen as the system of choice for more complex orthodontic cases. Dr. Coleman points out that Invisalign is the preferable option if:
You have rotated teeth
Your individual teeth are larger than your face can accommodate.
You have active infections or cavities that need to be monitored closely during orthodontic treatment
You need to move teeth closer or further away without tipping them (which we refer to as "bodily movement" or "translation")
You are looking for greater treatment accuracy
You want to predict your outcome with greater accuracy
You only have time to do this once. (Invisalign is better at getting it done right on the first try)
Our dentists believe that SmileDirectClub can work to correct for slight crowding or spacing; however, it is their opinion that moderate to severe spacing or crowding concerns will either fail to get corrected or may require years of treatment with aligners. Additionally, SmileDirectClub does not offer additional movement tools such as buttons, power ridges, and elastics at this time (while Invisalign does). This means that significant movement can only be achieved by having the patient stay in aligners for a more extended period of time.
To help you in evaluating your orthodontic choices, we have taken the time to include an easy-to-read graphic that details the specific differences between SmileDirectClub and Invisalign: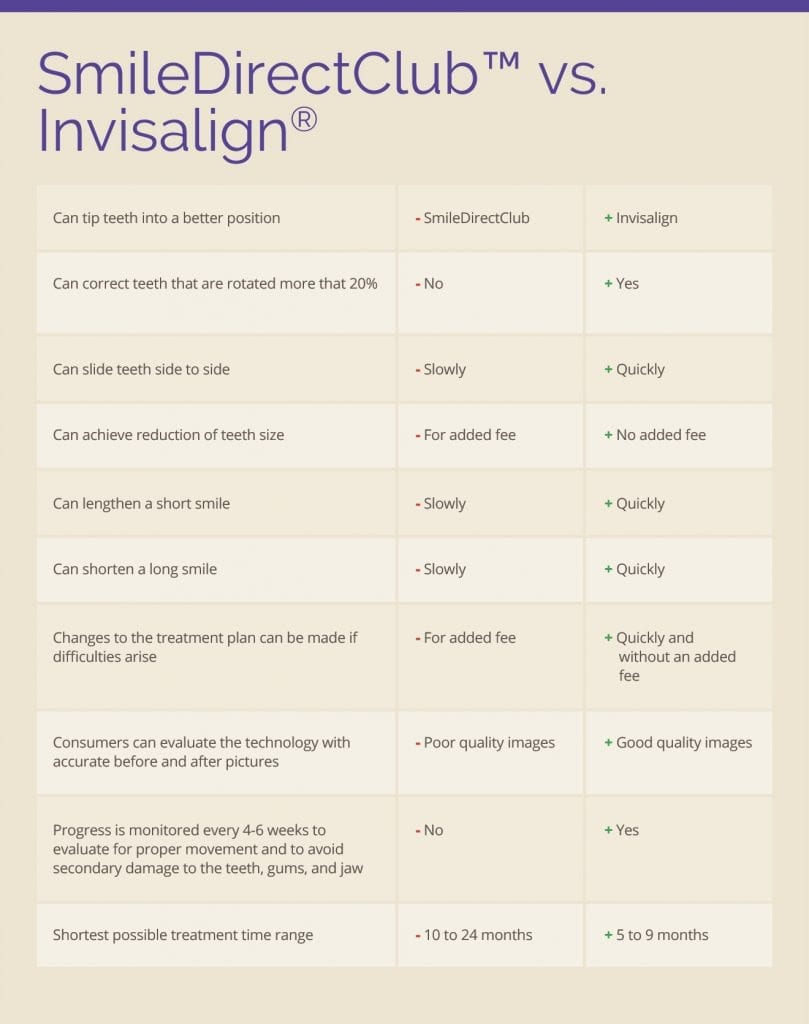 It is important to note that on June 27, 2019 the American Dental Association (ADA) filed complaints with the FTC and FDA against SmileDirectClub due to dentists' concerns about patient safety during treatment with SmileDirectClub aligners. According to FDA regulations, teeth aligning materials are supposed to be "by prescription only", and the ADA is arguing that SmileDirectClub's practices lead to an unacceptable standard of care that can cause serious harm to patients. (see full article)
Our dentists agree that each patient's smile is unique and requires individual attention. They also recommend that you do your homework when choosing between systems like SmileDirectClub and Invisalign. This means getting a good understanding of the condition of your smile, learning what each system is capable of, and asking for a professional opinion to ensure you make the best choice for your smile, budget, and other personal preferences!
If you want to learn more about which orthodontic option is best suited for achieving the healthy, beautiful smile you desire, please contact Coleman Advanced Dentistry to schedule a consultation. Our patients benefit from our dentists' expertise and experience in all of the latest treatments, techniques, and procedures!