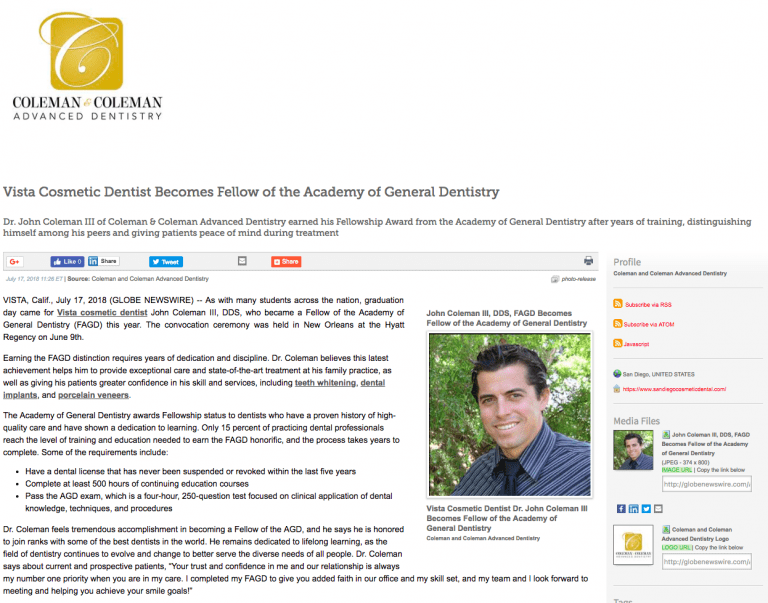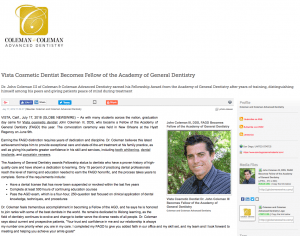 Dr. John Coleman III of Coleman Advanced Dentistry earned his Fellowship Award from the Academy of General Dentistry after years of training, distinguishing himself among his peers and giving patients peace of mind during treatment.
Vista, CA — As with many students across the nation, graduation day came for Vista cosmetic dentist John Coleman III, DDS, who became a Fellow of the Academy of General Dentistry (FAGD) this year. The convocation ceremony was held in New Orleans at the Hyatt Regency on June 9th.
Earning the FAGD distinction requires years of dedication and discipline. Dr. Coleman believes this latest achievement helps him to provide exceptional care and state-of-the-art treatment at his family practice, as well as giving his patients greater confidence in his skill and services, including teeth whitening, dental implants, and porcelain veneers.
The Academy of General Dentistry awards Fellowship status to dentists who have a proven history of high-quality care and have shown a dedication to learning. Only 15 percent of practicing dental professionals reach the level of training and education needed to earn the FAGD honorific, and the process takes years to complete. Some of the requirements include:
Have a dental license that has never been suspended or revoked within the last five years
Complete at least 500 hours of continuing education courses
Pass the AGD exam, which is a four-hour, 250-question test focused on clinical application of dental knowledge, techniques, and procedures
Dr. Coleman feels tremendous accomplishment in becoming a Fellow of the AGD, and he says he is honored to join ranks with some of the best dentists in the world. He remains dedicated to lifelong learning, as the field of dentistry continues to evolve and change to better serve the diverse needs of all people. Dr. Coleman says about current and prospective patients, "Your trust and confidence in me and our relationship is always my number one priority when you are in my care. I completed my FAGD to give you added faith in our office and my skill set, and my team and I look forward to meeting and helping you achieve your smile goals!"
About John Coleman III, DDS, FAGD
A graduate of the University of California, San Diego and New York University, Dr. John Coleman III followed in his father's footsteps to become a general and cosmetic dentist. Dr. Coleman III has completed additional training in aesthetic dentistry, TMJ (temporomandibular joint) disorder, and oral conscious sedation. He is an active member of several esteemed dental organizations, including the American Dental Association, the California Dental Association, and the Academy of General Dentistry, of which he is a Fellow. Dr. Coleman III is available for interview upon request.
For more information about Dr. John Coleman III or his practice, please visit sandiegocosmeticdental.com and facebook.com/colemandentistry.
Contact:
Coleman Advanced Dentistry
110 Civic Center Dr., Ste. 102
Vista, CA 92084
(760) 726-0770