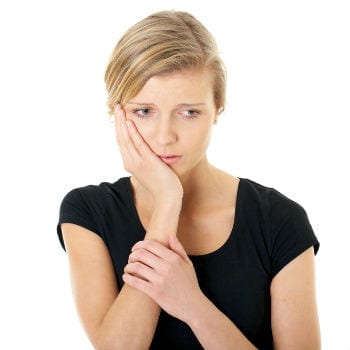 Temporomandibular joint or TMJ disorder can interfere with your health and quality of life. Coleman Advanced Dentistry is pleased to offer TMJ therapy to address your discomfort with lasting relief. A visit to our Vista office will have you on track to a healthy, pain-free smile!
The office staff could not have been nicer! Clean, beautiful office. Dr. Coleman was very thorough and extremely patient, kind and a very good listener . He came up with a plan of action for my TMJ problem that I'm very comfortable with. I wish I would have come in here months ago!

Diane Martin

October 02, 2019

12345
What Is TMJ Disorder or TMD?
The temporomandibular joints are tiny, triangular-shaped joints that act like sliding hinges, connecting your jawbone to your skull. You have two TMJs, one on each side of the jaw in front of your ears. Many people live with painful symptoms, such as headaches, neck pain, jaw clicking and popping, or tingling in the extremities, caused by TMJ dysfunction. This condition occurs when the TMJs aren't aligned correctly due to damage or injury. 
What Are the Causes of TMD?
In many cases, it's challenging to pinpoint the exact causes of TMD. However, factors that increase the risk of TMD include stress, fatigue, illness, trauma, an uneven bite, wear and tear of the jaw joints, teeth grinding, rheumatoid arthritis, and fibromyalgia. Many people experience symptoms of TMJ dysfunction without any apparent cause.  
What Are the Symptoms of TMD?
Temporomandibular joint disorder (TMJ) can cause a variety of uncomfortable symptoms. These include a persistent dull ache in the jaw and surrounding area, frequent tension headaches and neck aches, tooth pain, facial swelling, and discomfort while chewing, biting, or yawning. Ear pain, often mistaken for an ear infection or problem, is another common symptom.
In some cases, patients report a locked or frozen jaw, difficulty opening and closing the mouth, or popping, clicking, or grating sounds when they move their jaw. If you experience any of these symptoms, it's important to schedule a consultation with your trusted dental team at Coleman Advanced Dentistry. If left untreated, TMJ disorders can lead to complications such as chronic TMJ inflammation, tooth erosion, fractured teeth, interrupted sleep, muscle spasms, and other related concerns.
How Is TMD Treated?
If you suffer from TMJ dysfunction, our dentists will evaluate your unique needs and recommend the most conservative treatment options to relieve your pain. Non-surgical TMJ therapy may include strengthening exercises, over-the-counter anti-inflammatories, or reshaping the biting surfaces of your teeth to help the jaw close properly, a procedure known as occlusal equilibrium.
Other TMD treatments include oral appliance therapy. Our dentists will create custom oral appliances to prevent teeth grinding and gently reposition your TMJs to a more favorable position. That helps alleviate stress, reduce muscle strain, and relieve your TMD symptoms. In some severe cases, surgery may be required to provide the needed pain relief. 
TMD Treatment Near Me in Vista, CA
If you are looking for solutions to address TMD symptoms, contact our North County office to schedule a consultation today. Our accomplished dentists will discuss the benefits of TMJ therapy and get you on track to a pain-free smile. Residents of Vista, Oceanside, Carlsbad, and across North County are invited to visit our practice to experience exceptional dental care.